Role of poplar UDP-glycosyltransferase 72 family in lignification process
Dr. Nassirou MAHAMADOU ADAMOU - Université Abdou Moumouni de Niamey (Niger) / Institut des Radiao-Isotopes/ Département de RadioAgronomie et Ecophysiologie Végétale/ Laboratoire de Biotechnologie et Amélioration des Plantes
Primary cell walls are synthesised during plant cell division and elongation whereas secondary cell walls (SCWs) provide rigidity to plant specific tissues that have completed their growth. The cell wall matrix is rich in cellulose, hemicelluloses and pectin polysaccharides as well as various aromatic compounds and proteins. Lignin of the SCW is mainly polymerised after the deposition of the polysaccharide framework. Monolignols, the basic units that make up lignin are transported to the cell wall where they are polymerized but they can also be glycosylated and stored within the vacuole. Glycosylation reaction is catalyzed by UDP-glycosyltransferase (UGT) enzymes. Members of the UGT72 family have been involved in various biological processes including lignification and flavonoid biosynthesis in annual species. We focused on the characterization of the UGT72 family in poplar (Populus tremula x Populus alba), a model perennial plant in the process of wood formation and conducted a functional genomics study.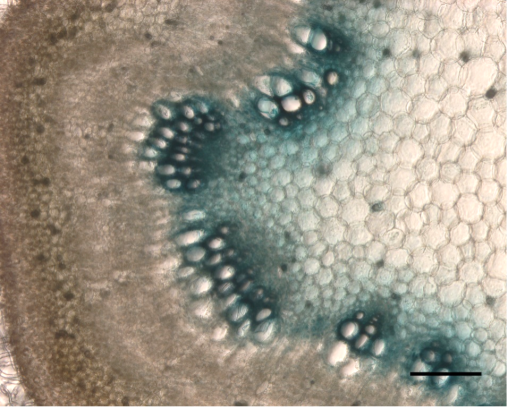 Expression profile of the GUS reporter gene under the control of the UGT72B37 promoter in stem section (10 cm below apex) of 4-month-old poplar grown in a phytotron.
Society and Climate in Roman Antiquity: Archaeological and Paleoclimatological Data from Central Italy
Dr. Devi Taelman - Department of History, Archaeology, Arts, Philosophy and Ethics, Vrije Universiteit Brussel
"The Roman Empire fell victim to the Late Antique Little Ice Age." This idea is widely accepted among the general public and among scholars outside history or archaeology. The end of the so-called Roman Climatic Optimum, it is claimed, caused the economic, political and military stress of the third century CE. In recent year, many archaeologists and historians have rejected this view as environmental determinism and argue that it is not founded on a thorough analysis of the possible effects of climate change on agriculture or society.In this talk, I present how archaeology can contribute to the debate on the relation between climate change and rural landscape exploitation, with the aim of clarifying the potential and actual impact of climate change on population, economy, agriculture, and landscape in Roman Italy.