Time and Resilience: Efforts to design climate-smart plants.
Understanding how plants respond and adapt to variable environmental temperatures, requires a comprehensive understanding of the underlying regulatory pathways. Coordination between important biological processes with external signals is communicated by the circadian clock. The circadian clock is an internal timekeeping machinery that enhances fitness and is found ubiquitously in bacteria, plants, fungi, and animals. Both temperature and the clock affect fundamental processes such as growth in plants. For example, crop productivity is affected by even modest temperature increases depending on the time of day. Through the identification and characterization of key regulators that contribute to stress tolerance, this presentation will discuss our approaches to gain a deeper understanding of how the clock contributes to plant adaptation in a changing environment and how we can leverage these insights to develop climate-smart plants.

Methane hydrates and anthropogenic ocean warming: Is there a potential hydrate-carbon cycle-climate feedback?
Methane is a short-lived but extremely potent greenhouse gas, which has 82.5 times more warming potential than carbon dioxide over a 20-year timespan. Marine sediments store vast amounts of methane in the solid form of hydrates. Size estimates of this reservoir range from 100 to 530,000 gigatons of carbon (GtC), with most likely values around 1800– 2000 GtC. Modern observations and geological records suggest that anthropogenic ocean warming could destabilize marine methane hydrate, resulting in methane release from the seafloor to the ocean-atmosphere, and potentially triggering a positive feedback on global temperature. On the decadal to millennial timescales over which hydrate-sourced methane release is hypothesized to occur, several processes consuming methane below and above the seafloor have the potential to slow, reduce or even prevent such release. Yet, the modulating effect of these processes on seafloor methane emissions remains poorly quantified, and the full impact of benthic methane consumption on ocean carbon chemistry is still to be explored. In this talk, I will illustrate the dynamic interplay between hydrate thermodynamics, benthic transport, and biogeochemical reaction processes, that ultimately determines the impact of hydrate destabilization on seafloor methane emissions and the ocean carbon cycle.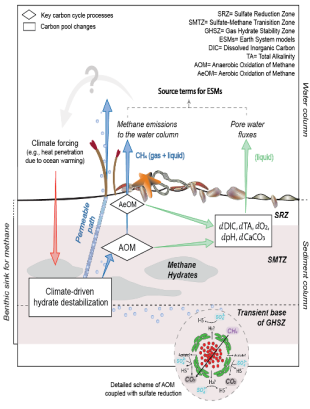 De La Fuente et al., in prep.